Ever tried on a shirt at a store and left orangey brown streaks around the collar? Or rubbed your face in an adorable cat-like manner on your lover's sweater, only to pull away and realize you've left a mark? Then you've experienced an age-old problem: the dreaded foundation smear, i.e. when the base on your face shows up in places it shouldn't. But we can fight back. Read on to find out how.
Prep your face
First things first, make sure you start with a clean canvas.  "Foundation will have a difficult time staying put if skin isn't properly prepped and hydrated," explains Alexis Orlando, a Laura Mercier Global Makeup Artist, especially during warmer months "when we're more likely to perspire and retain oil." Take care of the basics—twice-daily cleansing, plus gentle exfoliation at least once a week—and before applying anything else, prep the skin. Orlando recommends doing so with a moisturizer that contains sunscreen.
Don't skip primer
Next, apply a primer. "Primer is an essential step because it creates an invisible layer that acts as a buffer to outside elements," says Orlando. If you use a BB or CC cream, you may be able to get away without it: they smear less than traditional foundations tend to, because many also have primer built right in. But because they're sheerer and lighter, if you want a classic, full-coverage look, primer plus foundation (whether cream, liquid, or powder) is the way to go. Orlando likes Laura Mercier's new-for-fall Smooth Finish Flawless Fluide: "it's a long-wear formula that lasts up to 12 hours and it's really resistant against humidity, sweat, and water." And her foolproof application tip to avoid smudges and smears? "Stipple the foundation into the skin with a sponge," adds Orlando. A beautyblender is perfect for this technique.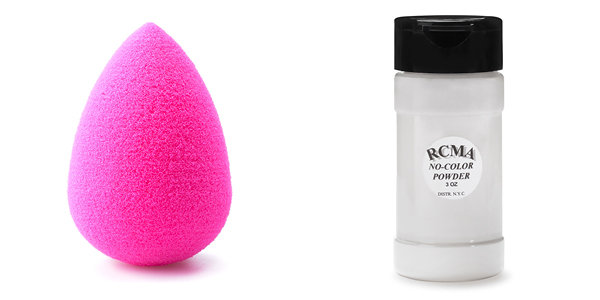 Take the time to set
Now what? To achieve a perfect finish that really lasts, you must set. Orlando favors powders over setting sprays—powders, she says, are more effective at keeping everything in place, and less likely to alter the color you've already put on. And speaking of color, Orlando always uses a velour puff with a translucent or "invisible" powder designed to keep pretty much any skin type fresh, flawless, and shine-free. (We love this pro-favorite from RCMA Makeup.)
When smears happen…
What about clothing that's already been tainted? "Depending on the material, dish detergent—one formulated without moisturizing ingredients—will do a good job of lifting makeup stains," says Orlando. Most foundations are oil-based, so if you put water directly on a stain, that may only serve to set it further into the fabric! So first, try to absorb some of the excess oil with a paper towel. Then dab on a bit of dish soap and let it sit for five minutes. Then rinse with lukewarm water.
Source: https://www.beautylish.com/a/vxnun/how-to-avoid-foundation-smudges