Image copyright: Pinterest
Around here, we love DIY beauty goodies and lipstick in equal measure. After seeing DIY crayon lipstick recipes around the web, we decided it was time to put our own spin on it. We tried a few different formulas, perfected the concoction, and came up with eight must-have color combinations using a trusty 64-pack of Crayola Crayons. And yep, this recipe is pretty safe. Crayons are made mostly of paraffin (found in most lipsticks or chapsticks) and non-toxic, food-grade pigments for a reason—if a kid decides to eat a crayon, it shouldn't do much damage beyond a stomachache. Better than lead or other potential toxins, right?
Follow along to make your favorite (or favorites—you'll probably want to do this more than once). They're amazing for inexpensive gifts, too.
You Will Need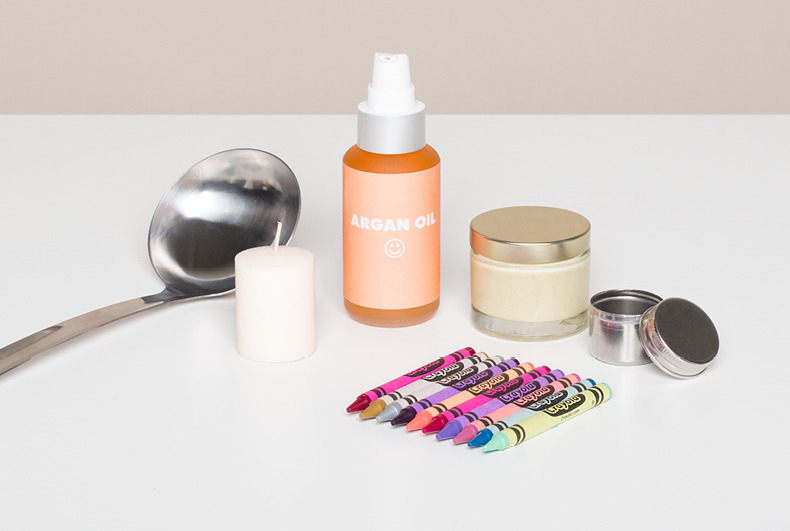 • 1 whole crayon or a combo of one or more colors, equal to one crayon. You can do 1/2+1/2, or 1/3 of three different crayons, 1/3+2/3 and so on.
• 1/2 tsp shea butter, available at Whole Foods
• 1/2 tsp any type of oil (olive, almond, jojoba, coconut). We used argan.
• Heat source. We used a candle.
• Large metal ladle
• Small metal spoon
• Container with a lid, such as a small empty lip balm jar, small Altoids tin, empty contact lens case, etc.*
Optional
• A drop or two of essential oil (we used grapefruit but those with sensitive skin should use other non-citrus essential oils) or extract (like vanilla or almond) for scent
• Glitter, for sparkle! We used Lit Glitter in Liberace S2 in one of our combos
Steps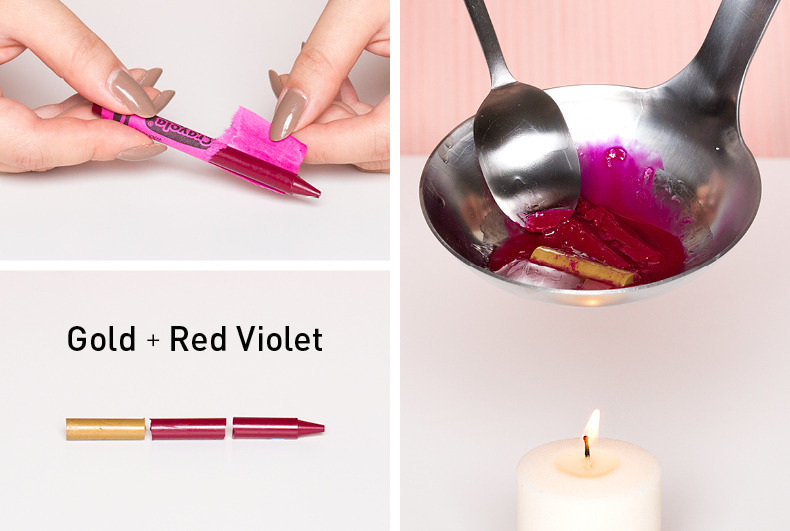 1: Choose your colors! You can pick one shade you like or mix it up to a desired shade. (For this how-to, we picked Gold + Red Violet and added some Lit Cosmetics Glitter in Liberace S2.)
2: Remove the paper wrapping from the crayons.
3: Put your oil and shea butter, plus a drop or two of essential oil if using, in the ladle first.
4: Add your crayon(s). If using just one single color, break it into pieces so that it melts more easily. If you're mixing colors, you want roughly one crayon worth total (half + half, 1 /3 + 2 /3 and so on).
5: Hover the ladle over a lit candle (about 3 inches away from the flame) and carefully add in your ingredients.
4: Crayons will begin to melt in about 30 seconds. As it melts, slowly stir until all ingredients using a metal spoon. Make sure all ingredients are mixed together.
5: Remove ladle from heat.
6: If adding glitter, stir it in right after you remove ladle from the heat.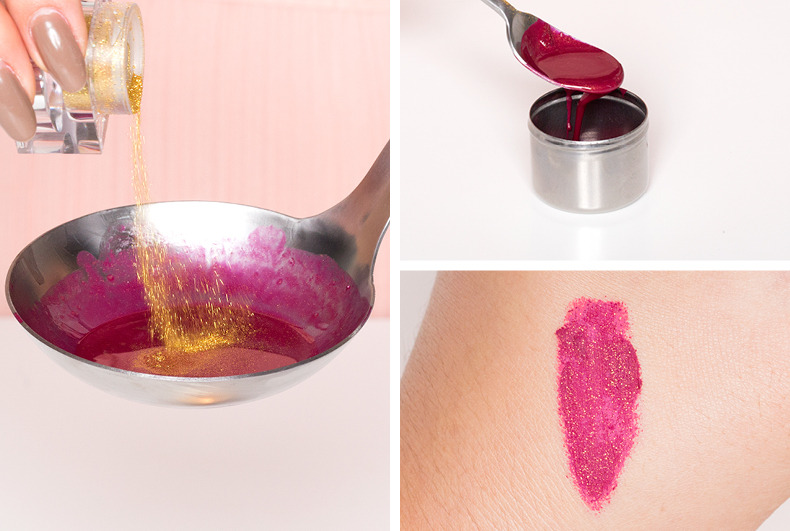 7: Using your spoon, pour the mixture into your container. Do this this extremely carefully, as the mixture will be very hot!
8: Let it cool in the refrigerator for 15 minutes.
You can control the intensity of the finished product from more sheer to full-coverage. Apply it with your fingers for a tinted lip balm look, or use a brush and layer, layer, layer, for an opaque color.
*You can also do this over a stove top, using a double-boiler, instead of a ladle and candle flame.
**If you prefer yours in stick form, you can also buy any cheap lip balm in a tube. First, empty it. To do that, twist so that the entire stick of balm is dispensed, and pull off the product. Then twist the tube all the way back to the down position. When you get to step 7, use a metal funnel (will be hard to aim without this) and pour your mixture into the tube. Cool in the fridge, and you're done!
7 Must-Have Colors!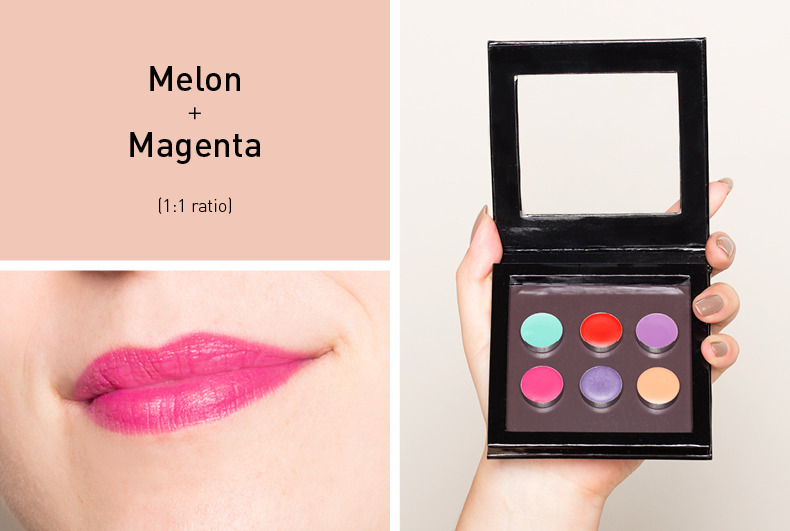 The best part is experimenting with color! With a 64-pack of Crayolas, we mixed several custom shades. Here are our favorite combos we came up with!
• (pictured top, in how-to): 1 part Gold + 2 parts Red Violet + Lit Cosmetics Glitter in Liberace S2
• (above, left, on model): 1 part Melon + 1 part Magenta
• (in compact, clockwise from top left): Sea Green + Turquoise Blue, Red Orange + Wild Strawberry, Wisteria + Mauvelous, Bittersweet + Peach, Silver + Violet, Magenta + Melon. Each of these was a 1:1 ratio.
One final idea: pour your crayon lipstick into a locket! Have you tried DIY lipstick of any sort? Show and tell in the comments!
Source: www.beautylish.com